Forfarshire 309 all out; Stewart's Melville CC (49.3 overs); Stewart's Melville 177 all out (49.5 overs). Lost by 132 runs. Match ball sponsors – Stewart's Melville Rugby Club
The weather for the last league game of the season was for maybe the first occasion as good as could ever be hoped for, sunny, hot and no wind to speak of. Our visitors, Forfarshire, had secured the championship for the first time last week and seemed in celebration mode throughout fielding their very strongest team. No surprise then when Forfarshire won the toss and chose to take the opportunity of showing off their batting prowess. To the surprise of the few onlookers by the eighth over Forfarshire were three down for 27 runs, Chris Greaves, Roy Johnston and Umar Mohammed having fallen to Shaylen Pillay and Andrew Wallace. Given their batting strength all through their line up the confidence of the visitors was not diminished and their middle order led by current Scotland star Michael Leask who piled up 128 runs (18x4s; 2x6s) for himself took their score beyond 300 before they lost their final two wickets being all out for 309 which ordinarily would look far beyond Stew Mel's capabilities. To capture all ten wickets was an achievement in itself but for the first time this season all four of our slow bowlers were scored off heavily. Shaylen Pillay had the best figures with 2 for 25 off 8 overs, Andrew Wallace finished with 3 for 48 off 9 overs.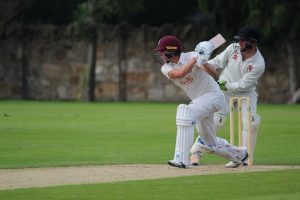 Facing such a large total there was disappointment among home ranks when the normally quick scoring Kyle McCallum was out in the first over to the pacey Scott Cameron for 2. Greg Bissett and Kris Steel then held out against the visitors attack into the 16th over taking the score onto 36 when Kris was bowled by Umar Mohammed for 17 followed quickly by Greg Bissett out lbw for 14 to Brock Ditchman. By then the required run rate was an unlikely 7.6 an over and while not achieving that there followed an excellent partnership of 88 in 102 balls between Shaylen Pillay and Hayden Sweet (45 with 4 fours), Shaylen went on to score 62 off 83 balls with 9 fours before eventually being seventh out lbw to Michael Leask's off spin chasing quick runs with the score then on 172 with 3 overs left. In a disappointing end to our innings we lost the last three wickets for the addition of only five more runs being all out when Sam Tait was comprehensively run out off the second last ball of the innings. In truth we were never likely to match Forfarshire's Leask inspired scoring rate which would have been beyond most teams in the league.
Our final league record was 3 wins and 9 defeats leaving us in ninth place for the third successive year but two wins better off than relegated Aberdeenshire. We were perhaps a little unfortunate in that of our six no result matches five of these were against teams in the lower part of the league where we would have had hopes of success. Reaching the semi-final of the midweek T20 competition including wins against Grange, Watsonians and Carlton was a pretty good outcome but the season will be most remembered for its miserable weather and the number of cancellations.
Till next season.
View scorecard http://www.stewartsmelvillecricket.com/wp-content/uploads/2019/08/Scorecard-SMCC-v-Forfarshire-24.08.19.pdf
https://smcfpclub.co.uk/wp-content/uploads/2017/10/SMC-FP-LOGO-new.gif
0
0
Editor
https://smcfpclub.co.uk/wp-content/uploads/2017/10/SMC-FP-LOGO-new.gif
Editor
2019-08-25 18:27:00
2020-02-16 18:34:16
Season over - 1st XI lose heavily to new Champions